About
This app configure Wi-Fi settings of your Android phones to block ads and user-tracking.
This app do NOT require "connect internet" permission, nor Rooted-device. You can block undesiable ads/trackings on most Wi-Fi accesspoints.

Install howto
Currently, this app is not available on Google's Play store. Please follow how to install Latest package
Direct Install Latest APK
Before install this app, your device needs to be configured to accept third-party (a.k.a. non-google preferred) apps. (If you have already installed third-party apps s.t. Amazon app store, f-droid, skip this step)
- On Android 4.x and 3.x, "Settings" - "Personal/Secuity" - "Unknown sources".
- On Android 2.x "Settings" - "Applications" - "Unknown sources"

Download latest APK (Android application PacKage file) from your device or mail it from your PC. then tap downloaded apk file to initiate installation.
Launch "WiFI AdBlocker" and please read and confirm notification. Tap "Adblocking Disabled" to enable Ad-Blocking.

When your device connected to wi-fi hotspot, This app will configure WiFi connection and popup message.

Keep Up-to-date by f-droid
F-droid app (website) can automatically check update via my repository (update notification server, https://app.usb0.net/repo ).
Open F-droid app and tap "Manage Repos" from menu. (push menu key or tap "..." on top)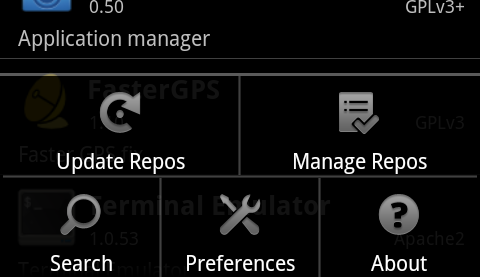 Tap "New Repository" from menu.

Add repository URL https://aap.usb0.net/repo and check to enable. WiFi Adblocker will appear in Updates tab or Installed tab.


Notice
This is freeware. Please use this app AT YOUR OWN RISK.
Please use secure connection s.t. HTTPS, IMAPS to ensure your privacy and security.
This app needs "read/write Wi-Fi settings" permissions to configure Wi-Fi IP addoress and DNS servers. To restore default settings, simply disable "Ad-Blocking Function".
Because of restriction of Android Phones, you need to turn off AdBlocking function BEFORE uninstall this app. If you have accidentally uninstalled this app, reinstall and toggle ad-blocking function will restore default.
This app use custom DNS esrvers to block ads. If your network block external DNS servers, adblocking cannot work. Please excude such Wi-Fi SSID (Accesspoint/hotspot name) not to apply auto-configuration.

Tips
You can check adblocking is properly applyed or not by tap "Test Settings". Browser will open and shows green image if applied.
Our blacklist includes most of US/Japanese advertisement servers..But if you find ads that this app do not block, please let us know via mail or twitter. Or please use "Report issues" in app menu. This app will generate template and debug information to solve your problem

how it works
All web browsers need to resolve real IP-address from domain name to connect servers. Android phones relying this "Resolving" process on external servers called DNS resolvers.
Most of all DNS resolvers are operated by your Internet Service Provides. They block some "evil" domains on DNS servers.
WiFi AdBlocker configures your phone to use custom DNS resolver to block servers used for advertisement and/or user-tracking. It means this app do NOT relay/proxy your connections.
古い記事
開発者ko-zuのブログ 「WiFi AdBLocker 避難所」
開発者ko-zuのブログ 「WiFi AdBlockerのFAQ的まとめ」